Relax Spa from £3999!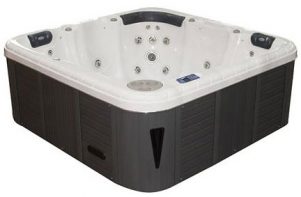 The relax spa is perfect for the family as it has two main loungers were a couple can lay across from each other and 3 relaxing bucket seats to accommodate guests or children. The spa has top of range features which included internal StarBrite LED lights, 4 external corner lights, a cascading waterfall and an aromatherapy feature where you can relax in a nice aroma.
The relax spa can also provide a invigorating message with its 24 hydrotherapy jets and 8 air jets which produces lots of soothing bubbles. The relax spa comes with a 10 year warranty on the internal shell and a 2 year warranty on the internal parts.
Now Only £3999 Includes FREE Local Delivery
Dimensions
Length: 200cm
Width: 200cm
Height: 85cm
Standard Features
Multi-Layered Shell Construction
Maintenence-Free Exterior Cabinet
2 atmospheric LED Lights in cabinet corner panels
StarBrite Interior Perimeter LED Lighting
5 Seats, Including 2 Loungers
24 All-Active Hydrotherapy Jets
8 Air Jets
3 Multiple Zoned Air Controls
Ozone Oxidation System for Cleaner Water
Cascading Water Fountain
Gravity Floor Drain
3 Luxury Light-Up Headrests
Programmable Filtration System
High-Flow 3HP Pump
Balboa Heating System
In-Built Aromatherapy Dispenser
14 LED Lights
Technical Information
Pumps: 1 x 3 HP, 1 x Circulation Pump, 1 x Airblower
Filtration: One Single Filtration Cartridge
Control System: Balboa
Heating: 3KW Heating System
Water Capacity: 1300 Litres
Dry Weight: 275 Kgs
Filled Weight: 1575 Kgs
Insulation: Poly Urethane, Heat Lock
Electrical Requirements: 240 v / 16 A
---